BitComet Stable (build 1.82.10.26) [Windows]
Introduction
BitComet (Bit Comet) is a professional old-fashioned domestic BT download software, which can be called a BT resource download tool! BitComet has a unique long-lasting seed function, which greatly increases the download speed and increases the seed survival rate. This BT download client supports BT/HTTP/FTP, supports BitTorrent (BT protocol), Magnet (magnetic link), eD2k (eMule download acceleration), supports the production of BT seed file release, automatic subscription and hang-up for seeding, and web remote control , Support DHT network and UPnP mapping, support 32M block partition, have disk cache speed-up service, and support video watching below.
BitComet (BitComet, abbreviated as "BC") is a BitTorrent client software written in C++ for the Microsoft Windows platform. It can also be used for HTTP/FTP downloads, and an optional eMule plug-in (eMule plug-in) can be installed through the ed2k network. Download BT/eMule at the same time. Its features include simultaneous download, download queue, select to download a single file from multiple file torrents, fast download resume, chat, disk cache, speed limit, port mapping, IP address filtering, etc. The latest version adds support for the public DHT network and anti-blood sucking (for Thunder) settings.
Updates
v1.82 official version (2021.10.26)
GUI Improved: task list under the new HTTP server task list pane displays all connected to the same integrated server
GUI Improved: task list beneath the file list pane displays the HTTP download tasks file
interface improvements: improved relations pane below the switch when selected different types of tasks, Trackers pane, Peers BT task pane correspond to HTTP Servers task pane, Connections pane
UI improvements: increase the list on the left RSS feed refresh the status display
GUI Improved: BT task summary tasks in size pop-up tooltip, show all file size and file size boundary padding data
interface improvements: utf8 format parsing tracker returned an error message
interface fixes: BT task dialog tree after folding file list, the total file size of the selected display an error
screen correction: running in Windows 11 when the lower left corner of the page failed to load permit individual cases
interface Fixed: statistics pane uTP packets recv data is incorrect
interface amendments: peer list after adjusting meter order, tooltip display abnormal
heart correction: HTTP task is not enabled when looking mirror address, no mirror address entered by the user is connected when you restart the task
core Fix: Fixed IPv6 UDP tracker error handling
core Fix: improved DHT module stability of
core Fix: improved stability calculations BT task Hash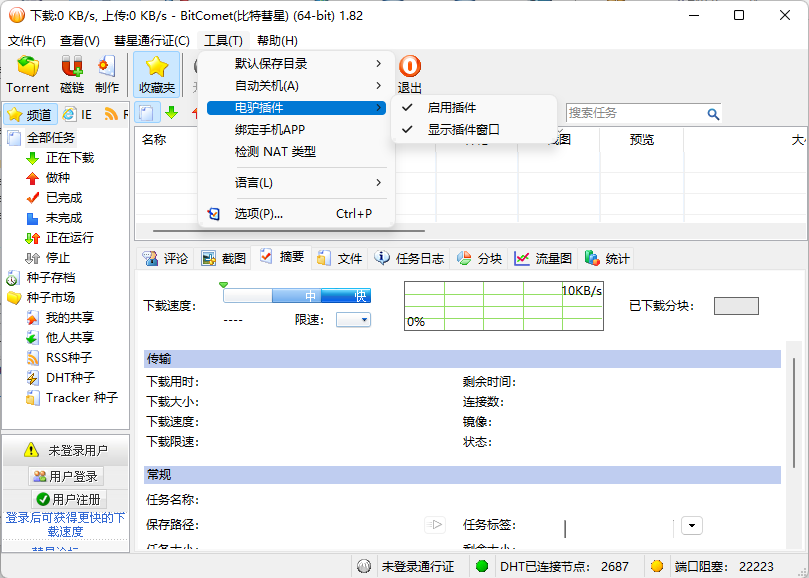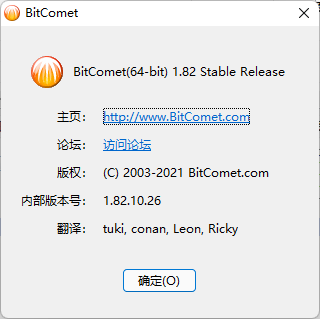 Features
Green modified version:
* Simplified Chinese interface display, can be unlocked when the seed market Traditional Chinese languages
* integration Enables classic eMule v0.50a plug the eMule
* prohibit automatic start Force the creation of a start menu shortcut
* Preset configuration file: Remove the link to the boutique software in the sidebar
* Preset configuration file: User-
displayed IP address, other optimizations * Preset configuration file: Go to the start page of the detailed information interface (ad page)
* Preset configuration file: Fine Subscribe to update selected Tracker server is automatically added to BT
* optimization to improve the seed upload transmission speeds and long program hook seeding stability
* for a large number of seeds RSS auto-publishing, support for major domestic and international stand-hook PT seeding
Instructions:
unzip to any position, running right [to initialize the disk speed service .bat]
can also be prompted to install the bottom right corner of the tray, and then start running BitComet_x64.exe or BitComet.exe
previous version upgrade method:
extract the folder, copy Downloads.xml, torrents, share to the new directory can
tips: some brother said there is no speed, it is impossible ah, the Tracker service period must be set for the job to open the Tracker needs to pay attention to what the brothers over the wall.
Web Gui Address:

web gui account: admin
password: itzmx.com
With the whole network Hot Tracker list to improve download speed, add the tracker method:
Click Tools – Options -BT download -Tracker
will https://trackerslist.com/all.txt copied into the "Automatically update server list daily Tracker" box below √ check and
click the "update Now"
and click "apply" – "OK" button.
This green version has been added: https://trackerslist.com/all.txt , there is no need to add it repeatedly, it is only needed if it is replaced with another tracker.
Download