MobaXterm: Powerful Terminal Client Software, With Method to Generate a Professional License [Windows]
Introduction
Today I will share with you one more terminal software: MobaXterm. MobaXterm is a enhanced terminal for Windows with X11 server, tabbed SSH client, network tools with much more functions. Also the official free version is also enough for most use cases!
In a single Windows application, it provides loads of functions that are tailored for programmers, webmasters, IT administrators and pretty much all users who need to handle their remote jobs in a more simple fashion.
MobaXterm provides all the important remote network tools (SSH, X11, RDP, VNC, FTP, MOSH, …) and Unix commands (bash, ls, cat, sed, grep, awk, rsync, …) to Windows desktop, in a single portable exe file which works out of the box. More info on supported network protocols
There are many advantages of having an All-In-One network application for your remote tasks, e.g. when you use SSH to connect to a remote server, a graphical SFTP browser will automatically pop up in order to directly edit your remote files. Your remote applications will also display seamlessly on your Windows desktop using the embedded X server. See demo
The only downside: you can't save the SSH link to the cloud! But that's fine. After all, the SSH connection IP port account password is very sensitive content, who knows whether it is safe on the "cloud"! 
There is a recommended feature for this software, which you can use the portable version, put the tools on the U disk, and manage your own server at any time on any computer!
The main function
Support multiple terminals SSH, telnet, rlogin, Mosh
Support multiple desktop RDP, VNC, Xdmcp
Supports Unix commands (bash, ls, cat, sed, grep, awk, rsync, …)
Support SFTP file transfer after connecting to SSH terminal
Various rich plugins (git/dig/aria2 etc.)
Can run Windows or software
Various other network tools
Support portable version (green version) and installation version
Version Compares
Home free version: 12 session limit, 2 SS tunnel limit, and 4 macros maximum.
The professional version mainly removes these restrictions! ! !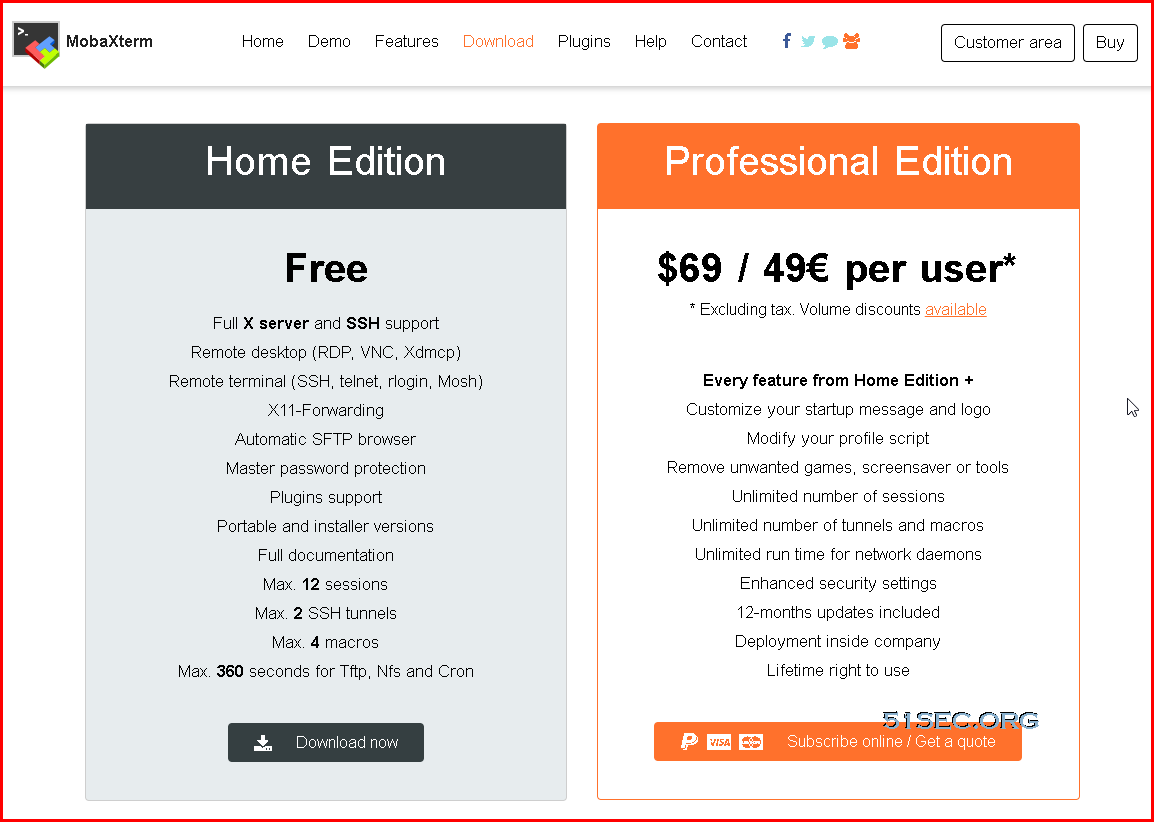 Download
Download page from MobaXterm site: https://mobaxterm.mobatek.net/download-home-edition.html
Portable home edition : https://download.mobatek.net/2152021112100754/MobaXterm_Portable_v21.5.zip
Installer home edition : https://download.mobatek.net/2152021112100754/MobaXterm_Installer_v21.5.zip
Pro Version: https://od.51sec.org/TGM_51Sec_EU/Sharing/Software/Network%20Tools/MobaXterm/MobaXterm_22.1_winwk.com.zip
License
Why use the pro version?
Mentioned in the release notes! The free version is limited! So I need the professional version~
Home version tips are as follows: