DefenderUI (Third-party Microsoft Defender Enhancement tool) [Win]
DefenderUI is a completely free Microsoft Defender configuration tool, which is a third-party UI for Microsoft Defender. It comes from the developer of the anti-virus software VoodooShield. DefenderUI provides a new UI, improves the usability of Microsoft Defender, and unlocks hidden security features.
Introduction
On Windows 10 and Windows 11, the built-in antivirus tool Microsoft Defender is sufficient for daily network security protection needs, but because Microsoft integrates many of Microsoft Defender's setting options into the Windows Settings Center, setting up Microsoft Defender has become cumbersome and complicated.
As a third-party UI, DefenderUI aims to improve the usability of Microsoft Defender by providing a completely new UI, while it also unlocks the security features that Microsoft Defender hides. DefenderUI provides 4 modes of recommended/interactive/aggressive/default mode, corresponding to 4 different configurations, users can switch at any time.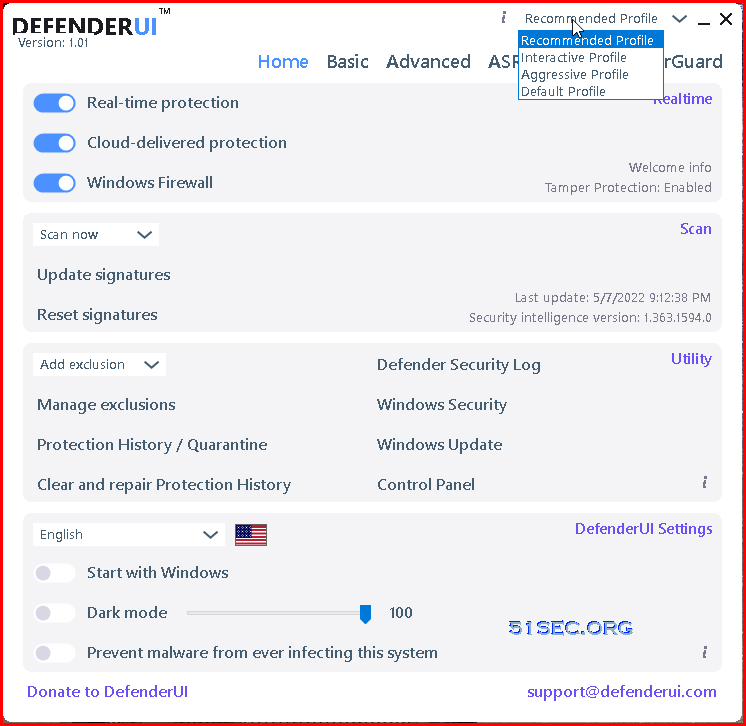 This software is compatible with Win10 and Win11, and the interface language supports multiple language.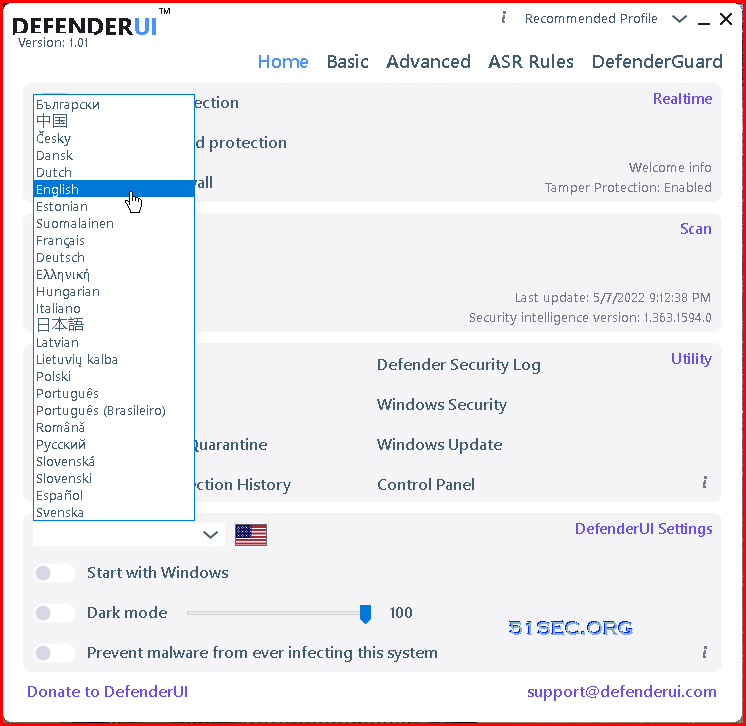 Software Features
The following four profiles are supported:
Recommended Profile – Unlocks some hidden features of Microsoft Defender. for normal users.
Interactive Profile – Safer than recommended. For advanced users.
Offensive Profile – The most secure profile.
Default Profile – The default factory profile for Microsoft Defender when your windows system installed.
Users of the app can switch between profiles at any time and set the settings accordingly.
The interface uses tabs to display all available Defender settings.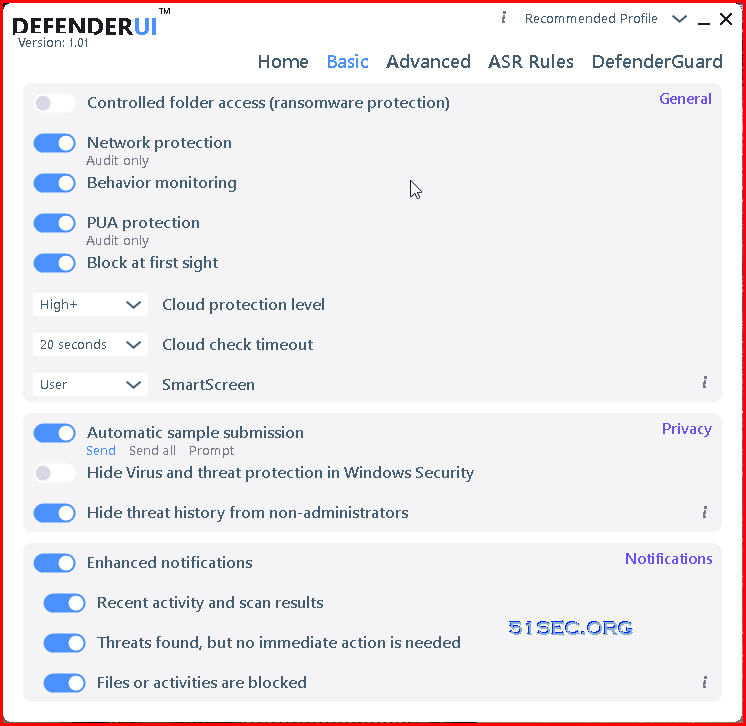 The Home tab lists toggles for several features, including real-time protection, cloud-delivered protection, and Windows Firewall. There are also switches for launching Microsoft Defender in Windows and switching between light and dark modes in DefenderUI.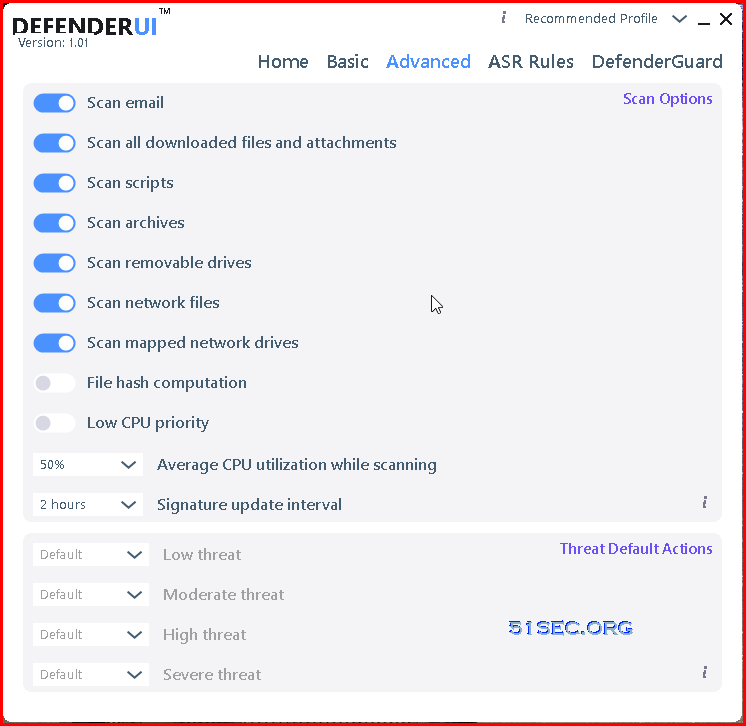 Other options include updating and resetting signatures, running scans, adding items to exclusion lists, and opening certain administrative pages such as Windows Update, Protection History and Quarantine, or the Defender Security Log.
Defense Basic Interface
The Basic tab lists a few options, which groups into General, Privacy, and Notifications.
The general list includes switches for many of Microsoft Defender's security features, including PUA protection, behavior monitoring, network protection, or controlled folder access.
Privacy toggle controls automatic sample submission and more.
Notifications ultimately define if and when notifications are displayed to system users.
Some features include additional options. For example, PUA protection can be set to audit-only mode, or automatically submit samples to prompt, giving users control over the feature.
Advanced Tab
The Advanced tab lists scan options and default threat actions. The options are largely self-explanatory. Scan options define the areas of the system that Microsoft Defender includes in its scans. Provides the option to change the update check interval and average CPU usage during a scan.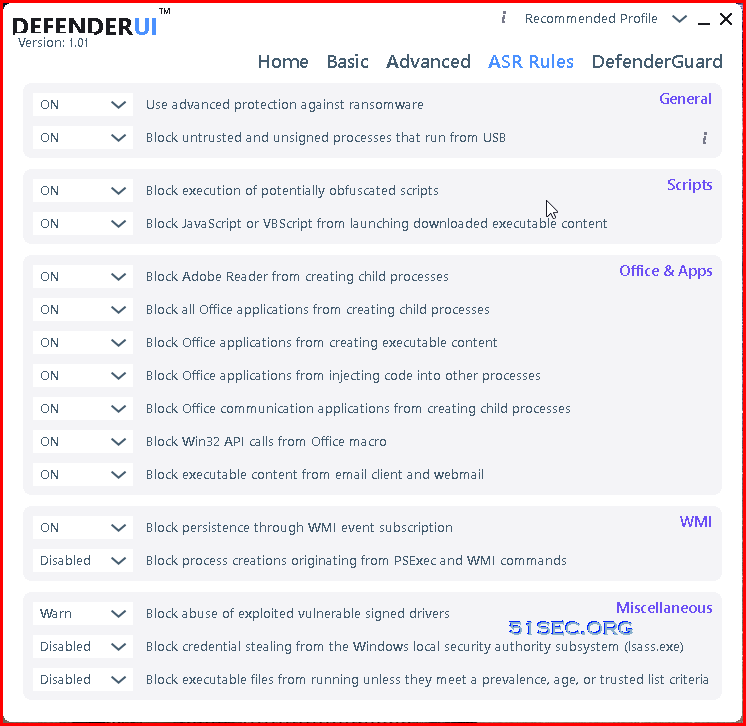 ASR, Attack Surface Reduction, is the next tab. By default, it is designed to block potentially malicious behavior on the system. Examples include preventing the execution of untrusted and unsigned processes running from USB devices, preventing Adobe Reader and Office applications from creating child processes, or preventing the misuse of vulnerable signed drivers.
DefenderGuard
DefenderGuard finally gives users control over automatic reactivation protection, real-time protection, cloud-delivered protection, and Windows Firewall. These can be set to be disabled so that these features no longer automatically turn on after a period of time.
When you change the configuration, the application enables custom configuration files. The option to save custom profiles is not available.
DefenderUI is a useful program for Windows 10 and 11 devices because it improves the configuration of Microsoft Defender. The program can use additional tooltips that explain functionality to the user, as well as options to import and export custom profiles.
How does it compare to ConfigureDefender? ConfigureDefender provides similar options, as well as a configuration file-based approach. The program has matured over the years. The interface shows all the options on a single page, which can be more intimidating, but it's best to keep an overview of the settings.
Both programs provide access to Microsoft Defender settings and features that are otherwise not accessible through the Settings application.
DefenderUI is brought to you by the developers of VoodooShield, the leading dynamic application control solution, so you can trust that DefenderUI is 100% clean and free.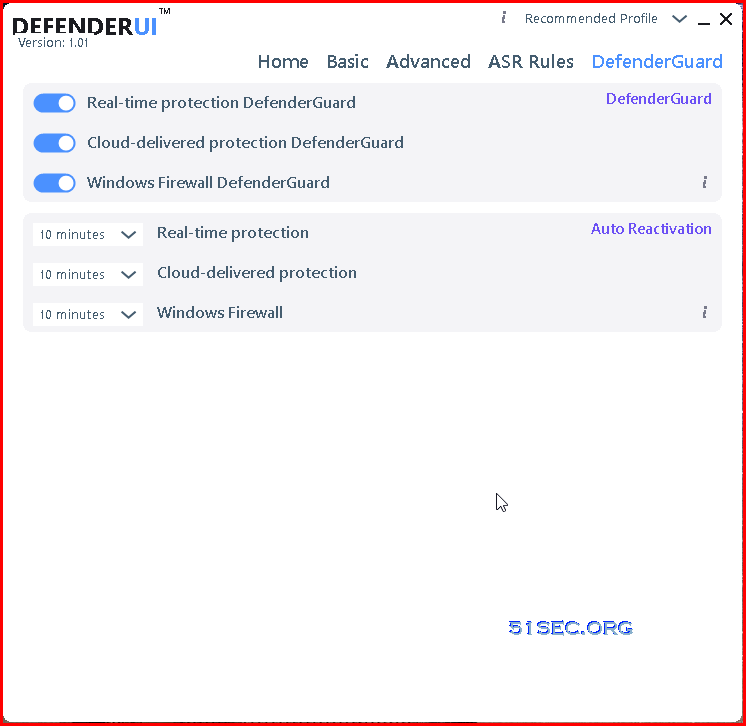 Software special instructions
In addition to DefenderUI, readers can also consider another tool, ConfigureDefender. ConfigureDefender offers similar options to Microsoft Defender and has been around for years and is relatively more stable.