Hard Disk Sentinel – a hard disk monitoring and analysis tool [Win]
Hard Disk Sentinel (HDSentinel) is a multi-OS SSD and HDD monitoring and analysis software. Its goal is to find, test, diagnose and repair hard drive problems, report and display SSD and HDD health, performance degradation and failures. Hard Disk Sentinel provides full text descriptions, prompts and displays/reports the most comprehensive information about hard disks and solid state disks inside and outside the computer (USB HDD/e-SATA HDD). Many different alerting and reporting options are available to ensure maximum security for your valuable data
There is no need to use separate tools to verify internal hard drives, external hard drives, SSDs, Hybrid Disk Drives (SSHDs), disks in RAID arrays and Network Attached Storage (NAS) drives as these are all contained in a single software. In addition, Hard Disk Sentinel Pro detects and displays status and SMART information about LTO tape drives and appropriate industrial (micro) SD cards.
Hard Disk Sentinel monitors hard drive/hard drive status including health, temperature and all SMART (Self Monitoring, Analysis and Reporting Technology) values ​​for all hard drives. It also measures disk transfer speeds in real-time, which can be used as a benchmark or to detect possible hard drive failures, performance degradation.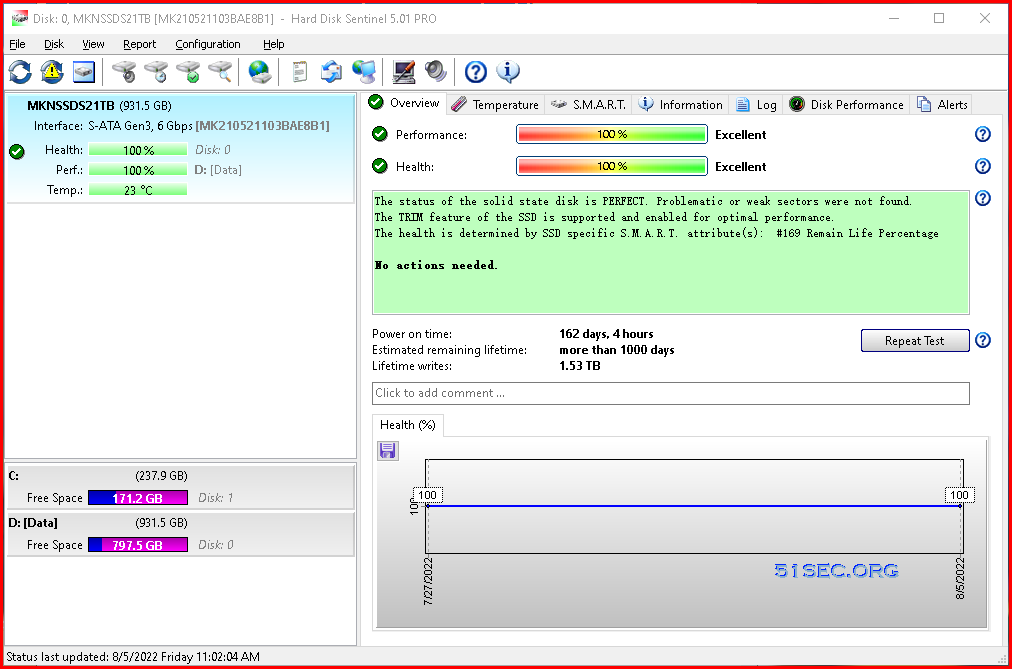 Features of Hard Disk Sentinel Professional Edition
All information is displayed in the main window of the application. Quick controls allow easy navigation to access all hard drives, partitions and different information. Intuitive user interface elements display information by using green/yellow/red to indicate the level of the problem. Detailed textual descriptions and context-sensitive help guide users through functions and options.
1. Install > 2. Configure > 3. Keep Protected
Simply install, configure alerts and backup features and your system is now safe. You'll be notified about the problem – but if all goes well, the Hard Disk Sentinel will just sit on the tray and show the current status. Data is protected 24 hours a day, 7 days a week.
Control advanced power management levels and adjust hard disk free-fall control sensitivity to maximize hard disk performance and data security.
Provides multiple automatic backup methods: transfer files via FTP (or even via email), backup data to a local computer, a LAN server or a remote server. Archives can be created or CD/DVD media can be burned using third-party tools. Hard Disk Sentinel Professional can manage the power state of remote computers in the network, so remote computers, such as backup servers, can be automatically turned on and off.
Developer-oriented API interface
Using the API, the detected hard disk information can be queried from the software. This allows third-party software to log, display, or otherwise process detected hard drive information, including temperature, health, and more.
Sentinel Professional for hard drives offers extensive remote monitoring capabilities. Hard disk status can be checked remotely via a web browser, or even via a mobile phone or PDA.
Hard Disk Sentinel communicates with all IDE, Serial ATA, NVMe, SCSI, SAS and most USB hard drives, SSDs and hybrid drives (SSHDs) to detect their status and temperature. The hard disk status is displayed immediately when the application is launched, eliminating the need to analyze the hard disk for a long time. It shows the current and maximum temperature of the hard drive. It reads all general properties and vendor-specific properties and monitors their values. For advanced users, all raw data is also displayed, including boot time and read/write errors. Hard Drive Sentinel explains performance and fitness related to SMART. value and displays calculated performance and health percentages, total power-on time and estimated remaining life.
Hard Disk Hardware and Software Testing
Using the Hard Disk Sentinel, you can initiate a hardware hard disk self-test. These tests can be used to efficiently find all hard drive problems, as the built-in hardware methods are used to verify hard drive components (e.g. heads, servos, internal buffers in short self tests). Extended Self-Test also verifies the entire hard drive surface, finding and repairing any weak areas and reallocating possible bad sectors. This is not possible with software-based hard disk surface scanning methods (eg, using scandisk).
Seek Test – Verify hard drive noise, seek time performance and temperature. The longer test can be used to stress the hard drive very deeply and intensively and verify if additional cooling is required.
Enhanced Hard Drive Testing
Surface Testing – Validates hard drive surfaces using intensive hard drive testing methods to reveal and fix hard drive problems. Surface reinitialization will reset all sectors to factory default state. Different destructive and non-destructive tests can be used to reflash the condition of any hard drive, solid state drive or even your pendrives or memory cards.
Hard Disk Sentinel logs all degradations in all SMART parameters and issues an alert in such cases to maximize data protection. For example, you will be notified if new bad sectors are found on your hard drive.
Hard Disk Sentinel provides extensive alerts for different issues. It can send emails (via Email -> SMS Gateway, it can be SMS alerts to your phone), web messages, can play audible alerts, etc. It can perform various tasks (automatic panic backup or any configured external application) if something goes wrong. There is an option to send a daily email about the current status.
Shutdown Provides the option to shut down
the computer in the event of a hard drive failure, hard drive overheating, or health degradation. This option can be used in combination with alerts to prevent further data loss.
Detects and displays all information about the hard disk, from revision number and buffer size to all the features it has. The maximum available and current transfer modes are also displayed.
in Windows Explorer View current health and used space in Windows Explorer or any other application, so you will always know.
How does Hard Disk Sentinel work?

Hard Disk Sentinel runs in the background and verifies SSD/HDD health by checking the SMART status of the disk. If errors are found or unexpected behavior is detected, it warns the user about the current situation, and can also take appropriate action (for example, start an automatic backup).
Typically, hard drive health may slowly decline day by day. SMART monitoring technology can predict hard disk failure by checking the critical value of the disk drive. Compared to other software, Hard Disk Sentinel can detect and report every disk problem. It is more sensitive to disk failures and can display better and more detailed information about hard drive life expectancy and problems found (if any). This is a more sophisticated method of predicting failure than the "traditional" method: checking SMART only attribute thresholds and values. For more information, read Hard Disk SMART Works and Why Hard Disk Sentinel is Different.
The software displays the current hard disk temperature and records the maximum and average hard disk temperature. This can be used to check the maximum temperature under high hard drive load. See the FAQ for the importance of hard drive operating temperature. See the Hard Disk Sentinel Professional feature list or our hard disk monitoring products.
Do I need Hard Disk Sentinel?
If you are using a computer with at least one hard drive or solid state drive and you want to make sure your data is always available, the answer is yes. Hard Disk Sentinel is designed just for you.
You are using multiple hard disks/SSDs/hybrid drives (SSHDs) (IDE/Serial ATA (S-ATA, e-SATA)/NVMe/SCSI/SAS/USB hard drives) or external enclosures (check the list of compatible hardware) in your computer Hardware Compatibility Page)
You are using a removable/removable rack or an enclosure with built-in hard drives
You are using a laptop
You are using a server or desktop computer with a high disk load
You want to maximize system stability, HDD performance and overall integrity , receive HDD alerts in high temperature or low health state
You don't want to lose sensitive and valuable data and don't want to pay for HDD recovery
Avoiding HDD failure is much better than using HDD recovery. Alert and prevent HDD data loss with Hard Disk Sentinel! Make your hard drive life healthy.
Hard Disk Sentinel is the perfect data protection solution: it can be effectively used to prevent HDD failure and SSD/HDD data loss because it has the most sensitive disk health rating system that is extremely sensitive to disk problems. This way even small hard drive problems can't be missed. The Professional version has scheduled and automatic (problem) disk backup options to prevent data loss due to failures, but can also be caused by malware or accidental deletion.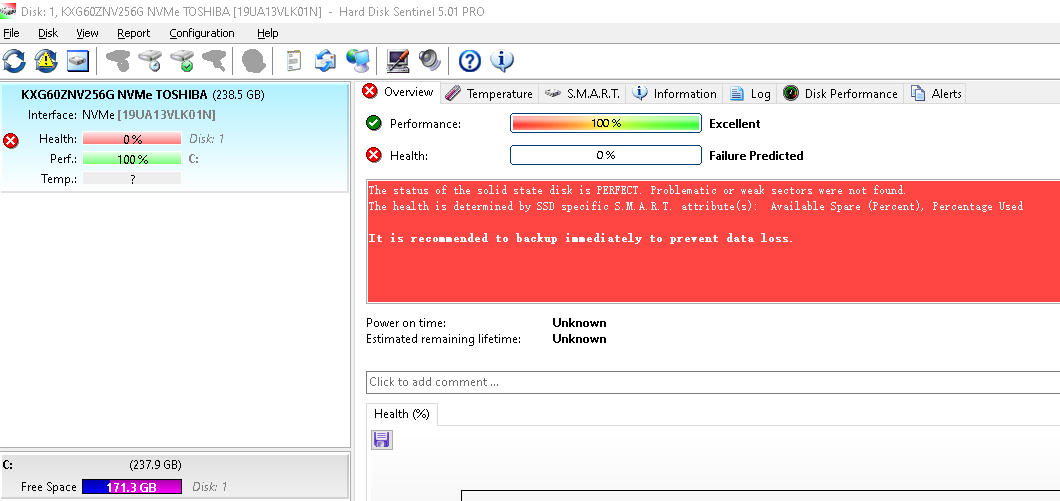 Hard Disk Sentinel License
Official Free Standard Edition
Hard Disk Sentinel version 5.70.12:
– improvements for ADATA SD Express cards
– improvements for AMD RAID with high number of SATA hard disks/SSDs and NVMe SSDs
Download Links: