Use Windows Update Blocker to Easily Disable Windows Update [Win]
Introduction
Windows 7/810/11 offers less UI control over the updating behavior of the operating system than previous versions of Windows , There is no option to turn off Windows Updates using the Control Panel or Settings app in Windows 7/8/10/11, it checks for updates automatically and install any updates they find, whether you like it or not. This new feature is actually pretty convenient for most users. If you want control over the update process you can disable the Windows Update service . This requires that you open the Services manager, locate the service and change its startup parameter and status. You would then have to enable the service again whenever you want the operating system to check for updates (It does not look so easy).
Windows Update Blocker is a freeware that helps you to completely disable or enable Automatic Updates on your Windows system , with just a click of the button . This utility is portable, which means that you are no longer required to go through the installation process and no leftovers will remain on the HDD after its removal. if you place the program file to an external data device, you make it possible to take Windows Update Blocker everywhere with you and use it on any computer you come in contact with, who has things configured just right, and doesn't want to take the chance that an update might mess up their system. This utility is for that person.
How it works
After downloading, extract Windows Update Blocker to your desired location, then run it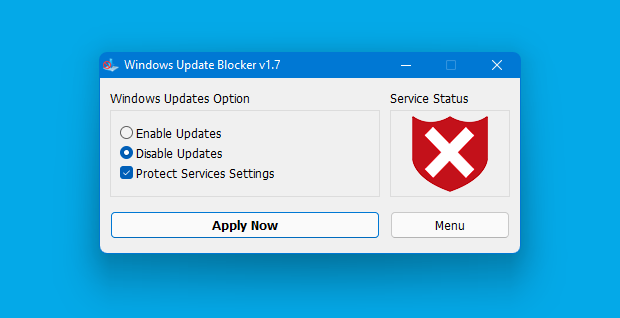 service status icon will show your windows Update service status , if you want to block Automatic Windows Updates Choose "Disable Service" And click "Apply Now" Button , Protect service setings can prevent Uncontrolled change (Recommended).
How to block any other service and protect the settings
Windows Update Blocker New version allow users to add any other service into Wub.ini file to block it , first please edit Wub.ini file and add your desired service name under the "dosvc=2,4" line , for example if you want to block "Windows Update medic Service" Please open services and find it
then click on it and copy the Service Name
Write or paste the service name under the dosvc=2,4 line
Finally open Windows Update Blocker and use "Apply now" button. If you want to delete recently added service after a while please follow these steps:
1. Open Windows Update Blocker and choose enable service option then use Apply now button.
2. Delete your desired service line from the Wub.ini file
3. Now you can choose disable service and Protect service settings options
Service List Options
Under Menu button there is a "Service List Options" choice if you click it , Service List Options popup window will be open. With this GUI you can easily control services which added to Wub.ini [Service_List] section. You can add Maximum 25 service to Wub.ini. Wuausrv service showing only for informational purposes therefore you can not edit it.
NOTE: If the windows update service doesn't start or if there is a problem even though you have enabled windows updates, please restart your system and try again. When windows updates are turned off, some windows processes or programs may try to open and repair Windows updates, resulting in windows update being damaged. Please use the Windows Update Troubleshooter from Microsoft if the updates do not open after restarting the system.
Windows Update Blocker supports Command line options to automate Windows Update Blocker tasks :
Supported operating systems: Windows 11 , Windows 10, Windows 8.1 , Windows 8 , Windows 7 , Windows Vista ,Windows XP (32\64-bit).
Supported languages: English , Turkish , German , Hebrew , Slovenian , French , Russian , Portuguese , Italian , Polish , Spanish , Czech , Ukrainian , Dutch , Greek , Hungarian , Chinese Simplified , Chinese Traditional , Portuguese (brasil) , Thai , Arabic , Korean , Vietnamese , Japanese , Indonesian , Persian , Swedish , Thai , Georgian , Danish (Dansk), Albanian, Azerbaijani, Bulgarian, Serbian , Uzbek , Tajik , Abkhazian , Romanian , Slovak , Sinhalese
Download
File: Wub_x64.exe │ Virustotal
MD5: 418dff42eea894a227f78935fbd8b059
SHA1: 24c587c6f765bbbbe70f0d4c2f3a8654e8667a25
File: Wub.exe │ Virustotal
MD5: 585c5000d1a851b295ff295389d7aa1a
SHA1: 191f4e93781aba9bf81565cece0046ee599c0633
https://www.sordum.org/files/downloads.php?st-windows-update-blocker
Alternative Software – Lenovo Offical Tool
Lenovo Quick Fix – One Click to disable Win10/Win11 System Auto-Update (关闭Win10/Win11自动更新)
The software is officially provided by Lenovo and supports Windows 10/11 32-bit/64-bit! Supports turning off and on system updates!
File Name: 关闭Win10自动更新.exe and 关闭Win11自动更新.exe
Download Links: Win10 Lenovo Dwonload / Win11 Lenovo Download / Other Download
1) Double-click to run "Turn off Win10 automatic update. EXE", the user account control prompt that may appear, please select "Yes".
2) Enter the tool page, you can choose "Turn off the automatic update of the Win11 system" or "Turn on the automatic update of the Win11 system" according to your needs
3) Click the "Turn off automatic Windows 11 system update" button, and the relevant prompt information will pop up
4) After the shutdown is successful, you can see the Windows update prompt in Settings – System Update, an error occurs, please try to reopen the settings later.
5) If you want to turn on the update, click "Turn on Windows 11 automatic update " to resume the update!
Use experience
At present, the company has 2 Win 11 system computers, one of which has not been automatically updated in the last month after it was shut down. The other Win 11 is still updated in three days and two days.
Lenovo's official website software is more secure in theory.
Non-Lenovo computers can also be used normally!
Try to use the same software to open and close the system update to avoid problems.
Option 3: StopUpdates10
Features
Stops Windows updates.
Stops forced upgrades.
Stops annoying upgrade notifications.
Restore updates with one-click.
Pauses updates.
Disables Windows 7-8 'End of support' and 'End of Service' notifications.
Benefits:
Easy to disable and re-enable Windows updates.
StopUpdates10 does not delete files, does not change file rights or another destructive actions.
StopUpdates10 is lightweight.
StopUpdates10 is free of charge.
Download: