Two Mobile Browsers Which Support Plug-Ins (Kiwi, X Browser)
When it comes to browser plug-ins, most people think of the gameplay on the computer. In fact, as the functions of mobile browsers become more and more perfect, many mobile browsers have begun to support the use of plug-ins.
In other words, mobile browsers that support the installation of plug-ins can not only experience silky and powerful functions like a computer, but also will not cause problems such as excessive memory storage and slow response when opening. We introduce 2 mobile browsers that support the installation of plug-ins, which are easier to use than Quark. I hope to help you find a favorite that is indispensable in your mobile phone. The first mobile browser that supports the installation of plug-ins :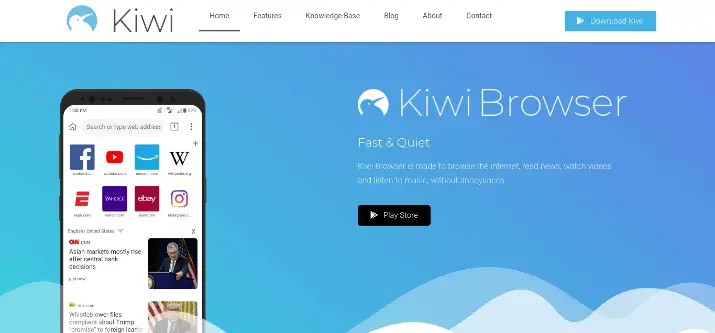 Some people say that a browser that is compatible with Chrome and Greasy Monkey plug-ins is very powerful, and I do not deny this. But when it comes to plugins, the Kiwi browser is really, really good. Kiwi browser is a browser based on Chromeium kernel, and it is indeed equivalent to Chrome on mobile phones in terms of usability. There is a basis for me to say this.
Click "┇"-"Extensions" in the upper right corner of the Kiwi browser and we will see this familiar Google extension page again.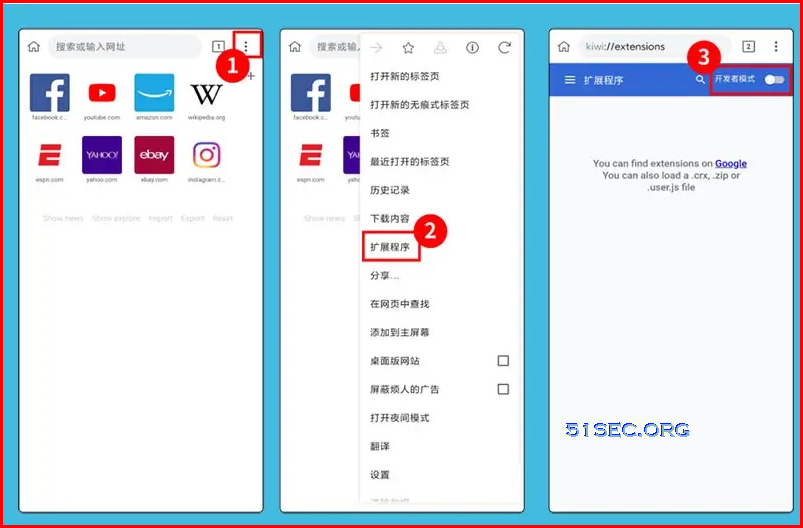 Don't forget to turn on "Developer Mode". No need to cooperate with the computer terminal, as long as you can surf the Internet scientifically, you can directly enter the Google store to install it, which is exactly the same as the method of installing the Chrome plug-in on the computer. Yes, it's that simple, so with a snap, I installed "AdBlock" and GreasyMonkey. After installing multiple scripts, no lag was found after testing. 
Download Link: Google Play Store Home Page
X browser 
X browser has a lot of built-in functions, and it has these 3 points which are very amazing! One is resource sniffing, the other is ad blocking, and the third is script extension.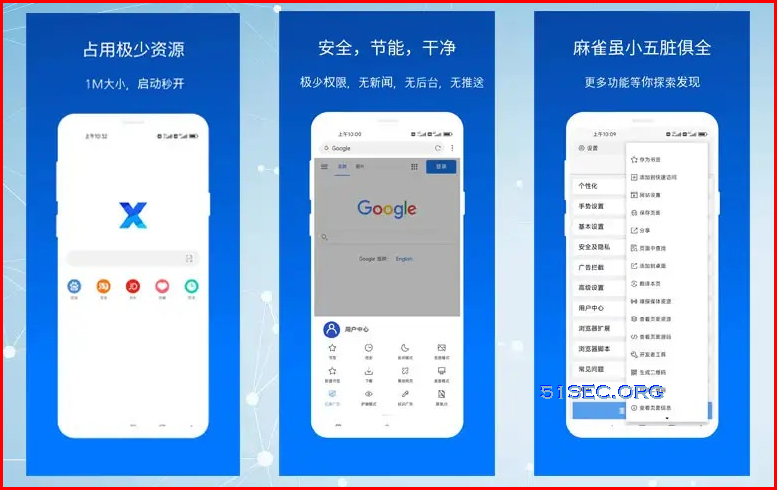 For example, the oil monkey plug-in that was blown up before, X browser can also support it. In addition, X Browser also has some scripts shared and uploaded by users, which can be added directly.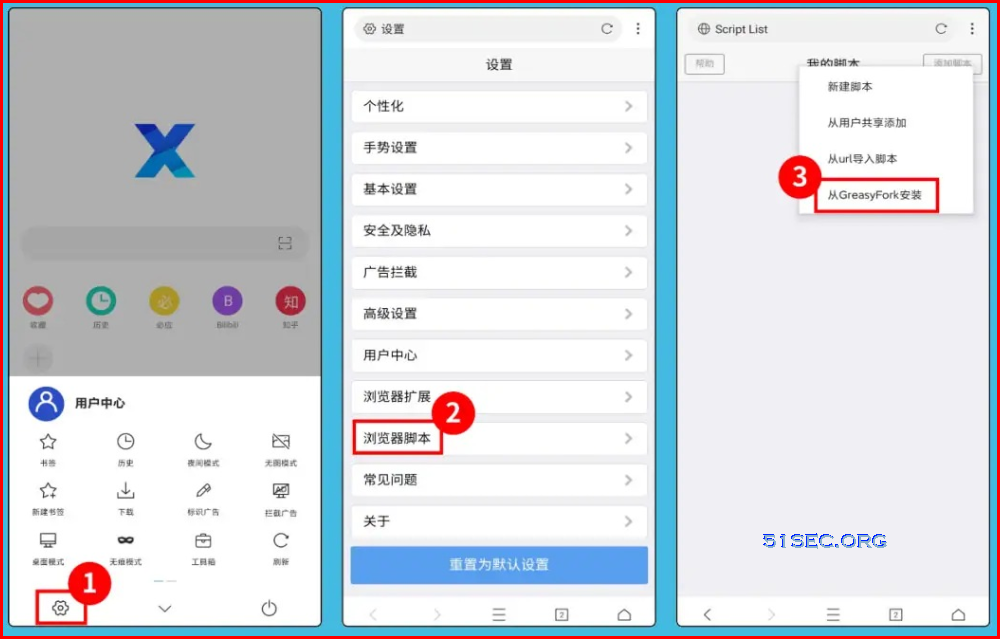 Under the scripts, we can also see the comments and feedbacks made by users after testing. Here I suggest you use scripts shared by users, because X browser is not compatible with all oil monkey scripts, and scripts that have been experienced by users are more practical.
Download Link: Google Play Store(X-Browser) Google Play Store(X-Browser Mini) Homepage
For IOS Users
Safari with ADGuard
Firefox Focus: Privacy Browser
Extensions
谷歌商店的扩展也可以用
1.uBlock origin扩展:屏蔽广告还有其他的比如Adguard。个人喜好ublock。因为可以在网页上手动去掉不想要的广告然后再把网页另存为pdf。之前在网上下载收费的文档就是采用这个方法。
2.igg谷歌助手https://crx4.com/24492.html虽然停更了也不太稳定,但是用到的时候也不太多。浏览谷歌还凑合。
3.猫抓https://crx4.com/?s=%E7%8C%AB%E6%8A%93网页看视频不过瘾,下载下来很爽。
4..Tempermonkey/ Violentmonkey:支持安装各种实用脚本,这两个油猴和脚本可以去greasy fork下载。这是个宝藏啊,里边好多好脚本,可以自己按需安装。下边是我自己的。
(1)破解VIP视频、音乐脚本:网页视频BUG多,音乐也不在网页听,所以本人不使用。
(2)网购省钱助手:查询历史价格、有无优惠券等。
(3)右键在新标签中打开图片时显示最优化图像质量;右键图片,点"新标签中打开图片",会显示最优画质。
(4)知网PDF下载。
(5)付费看答案:使用中考试资料网。
(6)图片下载器:可以在绝大多数网站提取并批量下载图片
(8)文本选中复制:解除文本复制限制
(9)链接地址全在【当前/新建】标签页打开(手机使用该脚本,解决进入某一网站在退出后,出现重刷新或返回界面不是含该网站的名称的搜索界面的问题。)
Kiwi Usages & Configurations
1.沉浸模式(隐藏系统状态栏)和工具地址栏缩小,使用软件"App Cloner"在"显示选项"里将沉浸模式打开和显示尺寸(工具地址栏)缩小,还支持名字和图标更改。
2.美化新标签页:infinity、itab丶uyou等。推荐infinity这个看自己了,我用的是自带的,感觉是美观了,但是对搜索没啥用太麻烦。
3.搜索喜欢百度的可以进入几次百度一下,然后就能看到,我喜欢用bing,注意不要选自带的bing,www.cn.bing.com/这个打开才能比较顺畅。
4.地址栏输入chrome://settings
(1)隐私设置和安全性:网站设置–更多内容设置–广告–所有显示广告,其余按需设置。
5.主页:为了防止打开新标签页时出现闪屏想象,需输入新标签页扩展的主页。操作:输入chrome-extension:// + 新标签扩展的ID/ + html的目录(ID可以在扩展程序里面查看,html目录可以在电脑用解压软件对新标签页.crx文件解压并查找。如果用系统自带的就没有这么些操作。
6.工具栏:按需打开关闭,本人全关。
7.无障碍:扩展置顶、强制启用缩放打开,平板强烈推荐"默认桌面模式"打开,其他功能按需打开。
8.标签切换器:个人喜好打开对应标签切换器的格式,推荐Grid。
9.隐私:按需打开关闭。
10.通知:按需打开关闭。
11.下载内容:下载保存位置不能更改,强烈推荐使用1DM+下载和修改途径。IDM真乃神器也,当然自带的也还行。