How to completely hide the application in Apple mobile phone [iOS]
Introduction
A lot of things have happened in China recently, and some cities will randomly check their mobile phones from time to time. Although it is illegal to randomly check mobile phones, it is difficult for ordinary civilians to resist. So if you really encounter it, how should you deal with it, especially those of us who often roam outside the wall and have installed more easily identifiable applications such as Cao – liu, YouTube, Telegram, and Twitter. In order to reduce the chances of being registered, drinking tea and being admonished, some self-defense skills are still required.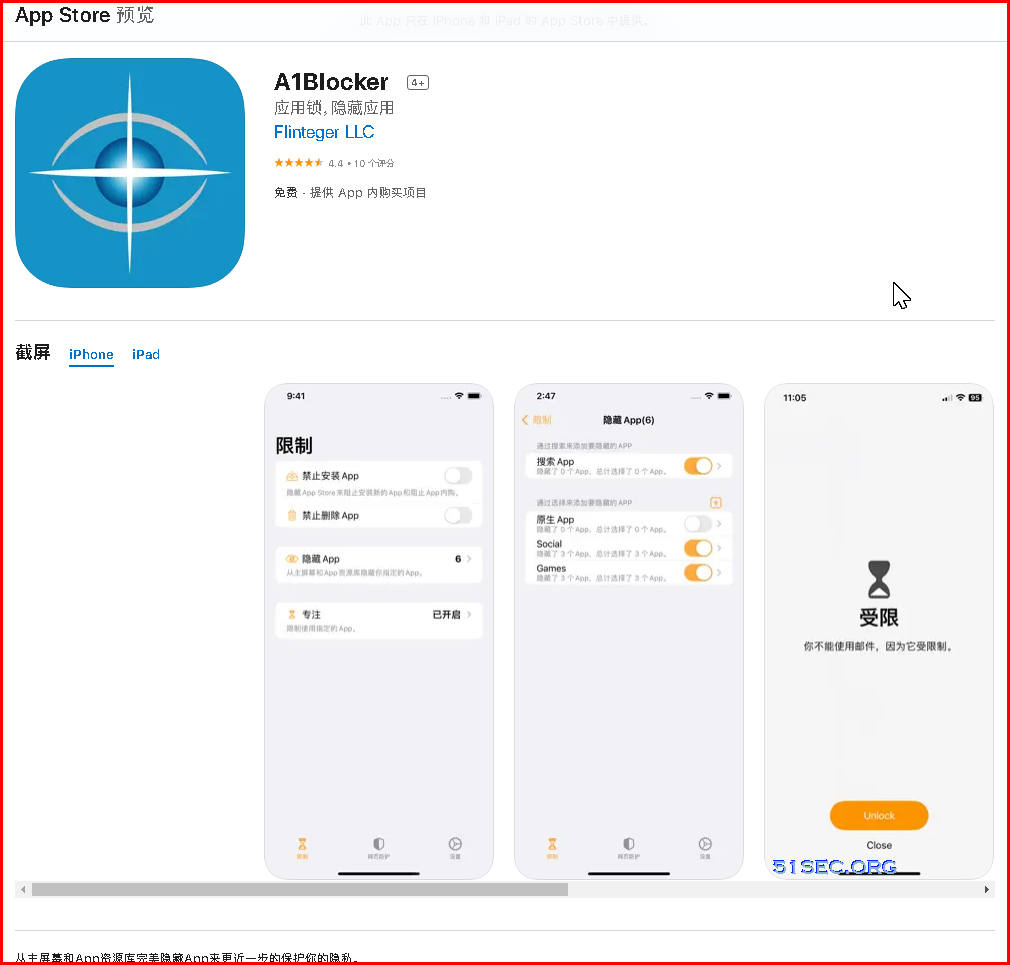 Android is actually very easy. You can isolate it with one click using software such as 冰箱 or 炼妖壶. But iOS has not been able to find software with this function. In the past, this kind of software was placed on the second page of the folder, and you couldn't see it if you didn't search for it. However, when iOS is swiped to the far right, all applications will be displayed, which will still reveal the truth. Or it's easy to search by scrolling down.
Software
Until recently, I found a software for iOS that can completely hide the selected application. Although it is a paid software, I think it is worth it (no promotion fee is charged, and a good application is worth promoting for free).
This app is called A1blocker, download link: https://apps.apple.com/cn/app/a1blocker-%E9%9A%90%E8%97%8Fapp-%E6%8B%A6%E6%88%AA %E6%81%B6%E6%84%8F%E7%BD%91%E7%AB%99/id1645472970 , the in-app purchase price is ¥30, and the US area is $4.99, which is not expensive, and the national area is more cost-effective. However, version 16.0 or higher is required to use it.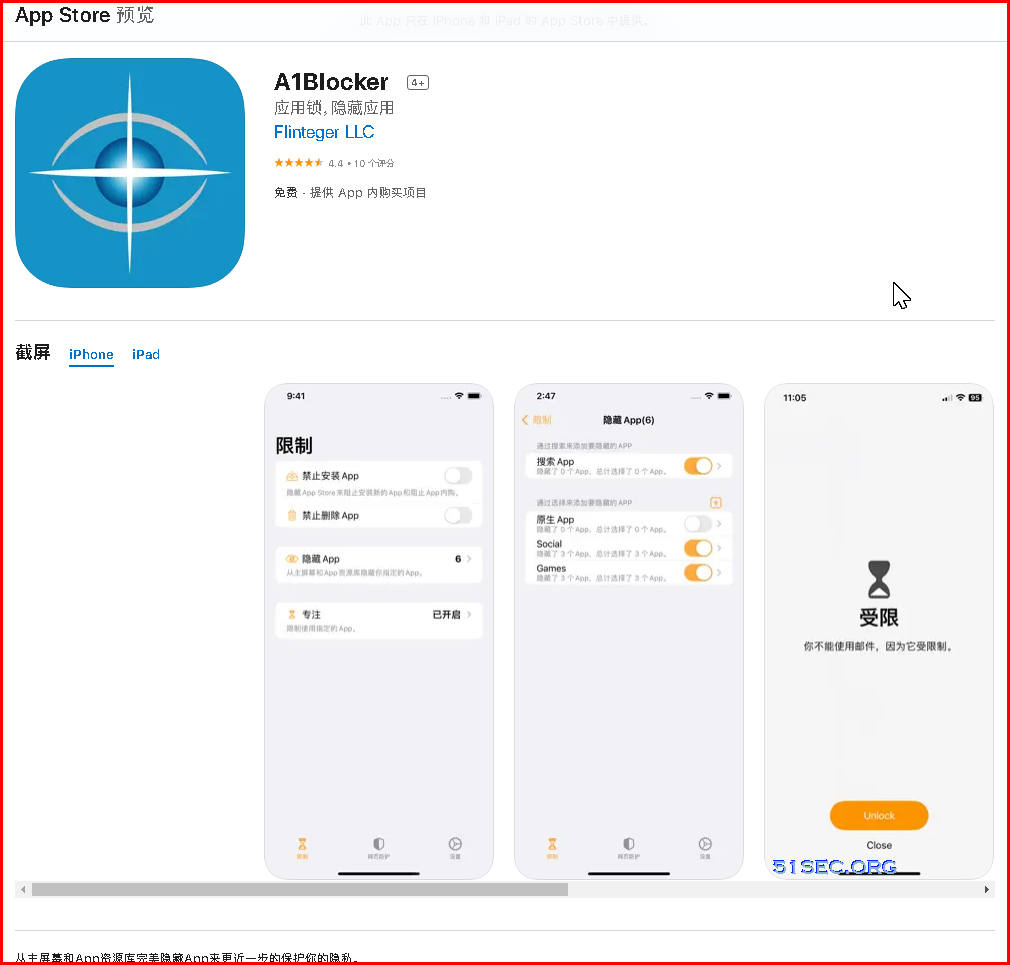 Features Screenshots
The home page of the app is shown in the picture above. Some functions can be used for free, but the function of hiding the APP is charged. It has many functions and is very practical.
Although it is to introduce the function of hiding applications, other functions are too practical, so I will mention them by the way.
It is forbidden to install APP. After opening, the APP Store will be hidden, which can prevent children at home from pretending to play games, and give you surprises from time to time.
It is forbidden to delete the APP. The application cannot be uninstalled after it is turned on. If you often encounter WeChat uninstalled by mistake and find a way to restore it everywhere, you can enable this function.
Hiding the APP, this is the core function, click to enter as shown below.
There are classified native apps, popular apps, social apps, and game apps, but many of them are not installed by themselves, so it is troublesome to find them. You can search for the application you want to hide from the top search box and add it directly.
Some apps are so weird that you can't find them. You can go to System Settings → Privacy and Security → APP Privacy Report → Click the Share button in the navigation bar → choose to open with A1Blocker, which is the prompt at the bottom of the picture above. Import recently used apps.
Turn on the switch on the right of the application that needs to be hidden, and slide left to delete the unnecessary application. At this time, it will not be hidden. If you want to hide the application, you must click the switch in the red box at the top. After turning it on, the application will disappear. It does not display on the desktop, does not display when swiping right, and does not display when searching. If the focus search is displayed, you can click the system settings → Siri and search → turn off "Show in focus" according to the prompt in the above picture.
The application is completely hidden, as shown in the picture above, it cannot be found at all, as if it has not been installed, and it will not be displayed in the installed application in the settings.
Other Functions
When you encounter someone checking your phone, you can turn it on with just one click. However, it is not recommended to play with it at ordinary times. After hiding, the application comes out of the folder, and you have to manually drag it back to the folder.
Let me introduce other functions. The function of restricting APP and website on the homepage is also very strong. You can restrict the use of specified APPs and visits to websites. Personally, I think this is more suitable for parents and children to share the tablet, to prevent children from browsing some unhealthy websites and clicking on WeChat to mess around.
You can choose by category. If you don't want to choose by category, you can click "Others" at the bottom and select the APP that needs to be restricted.
Click the webpage protection in the middle, and after the ad blocking function is enabled, you can turn on and off content blocking in System Settings → Safari → Extensions. The app provides interception rules for specific languages, and there are 21 languages ​​to choose from. You can choose more than one according to your own language habits.
Filter adult websites, I guess this function is not used by most people, and old drivers will definitely not use it. Of course, it can be turned on when it is used by children.
Other functions are also very good so I won't list them one by one. Finally, I will talk about the password protection function. In case someone or a kid knows about this app, he will turn it off if you turn on the block. The password function is useful. Setting a password can not only prevent children, but also prevent them from being forced to check their phones when drinking tea.
Download
Link1:(CN) https://apps.apple.com/cn/app/a1blocker-%E9%9A%90%E8%97%8Fapp-%E6%8B%A6%E6%88%AA%20%E6%81%B6%E6%84%8F%E7%BD%91%E7%AB%99/id1645472970
Link2: (EN) https://apps.apple.com/us/app/a1blocker/id1645472970