Tiny10 / Tiny11 | a Lightweight Windows 10 / 11 (No TPM) For Your Old PC
Tiny 10 and Tiny 11 was released by NTDEV at archive.org to allow you to install Windows 10 / 11 on those old & lower-end PCs. In this blog post, I am going to use Windwos Tiny11 and Tiny 10 as examples to introduce this interesting project and how we can download them and install them quickly and easily, and check how much resources they are taken.
If you want to run Windows 10/11 on your old computer with low RAM and disk space, Tiny10/11 appears as an better option. It is a project from NTDev and Tiny11 is a Windows 11 tiny edition. This edition is based on Windows 11 Pro 22H2 and includes everything you need for a comfortable computing experience since this tool doesn't have the bloat and clutter of a standard Windows installation. Windows 10 is based Enterprise LTSC version.
Features:
Small: 5GB – 6.34GB Hard Drive Space comparing with normal windows 10/11 22GB+
Less resource requirement: 1-2G Ram, 1-2 CPU
No minimum system requirement, such as TPM
Windows update supported
Microsoft store included
Tiny11 Requirements
In terms of Tiny11 requirements, a scant 8GB of storage and just 2GB of RAM are required and Windows 11 can run well. Even there is a crazy thing – someone can let Tiny11 run on 200MB of RAM but the running speed is very slow.
The operating system itself in Tiny11 takes up only 6.34GB while the rest is used by some rudimentary apps like Paint, Notepad, and Calculator. Besides, no TPM is required to install Tiny11. What's more, the Microsoft Store app is left intact, so you can run it to download and install some apps you need. And this Windows 11 tiny edition uses a local account by default but the option to set up an online account remains.
Due to the cut-down nature, many features you need are not included in Windows 11 Lite Edition/Tiny Edition – Tiny11. The operating system won't update automatically and you may notice future releases from NTDev. Note that Tiny11 isn't supported by the official Windows.
Even so, Tiny11 is an interesting tool for desktops and laptops that lack the hardware Windows 11 demands. And you can have a shot. See how to download Tiny11 ISO to install.
It is straightforward to download and install Windows 11 Tiny Edition. See the guide here.
Tiny11 Download
Where to download Tiny11? When searching for "Tiny ISO", "Windows 11 Tiny ISO download", or "Tiny 11 23H2 download" in Google Chrome, you can find a download link from Internet Archive. This website offers a Tiny11 ISO to you for download. When opening the link, click ISO IMAGE to get the ISO file of Windows 11 Tiny Edition.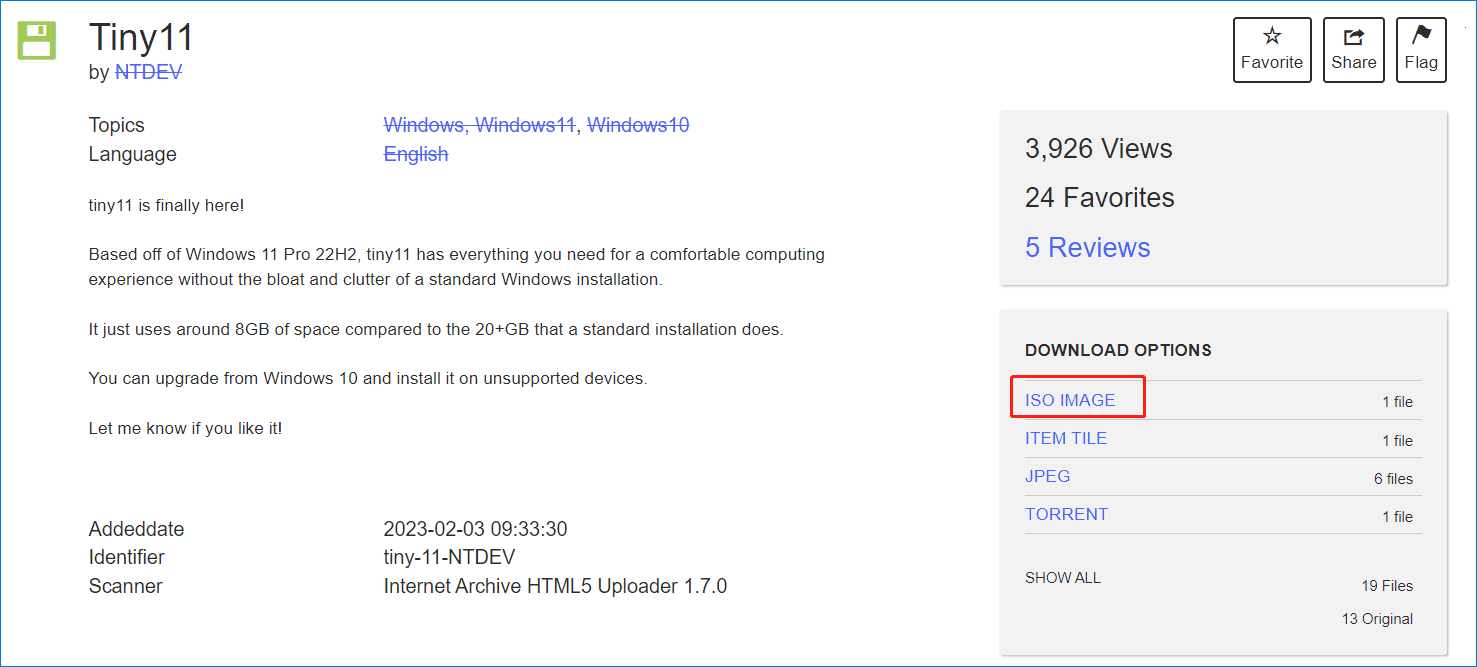 Install Tiny11
After getting the Tiny11 ISO, you can install this tiny edition of Windows 11 on your old PC. Follow these steps:
1. Download Rufus, launch it, connect a USB flash drive to your PC, and create a bootable USB drive.
2. Restart your PC to enter BIOS and change the boot order to let Windows run from the USB drive.
3. Then the setup appears. Choose a language, time format, and keyboard method.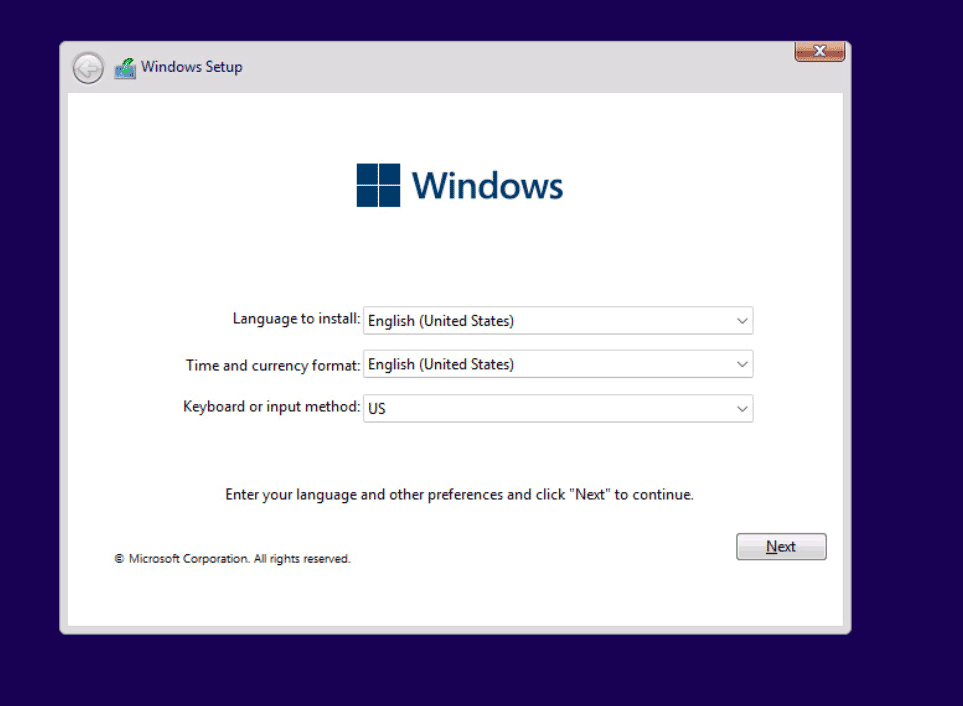 4. Accept the Microsoft Software license Terms.
5. Decide where to install Windows 11 Tiny Edition.
6. The installation process starts.
7. After finishing the installation, set up Windows 11 Lite Edition by following the on-screen instructions.
Tiny11 is a Windows 11 lite edition that only requires less disk space and RAM. If you want to enjoy it on an unsupported old PC, follow the given steps to finish the Tiny11 download and use the ISO to install it. Since this edition is not supported officially, it is not secure enough and you had better install Windows 11 by getting an ISO file from Microsoft.
Tiny 10 Project
https://archive.org/details/tiny-10-NTDEV
For example, installing Tiny10 on a 32-bit system only requires 5.2GB of disk space , which is a breakthrough. A normal Windows 10 system takes up to 22GB of space . That's great for reducing the install size by 17GB. On 64-bit systems, Tiny10 takes up to 10GB of disk space. And in terms of RAM, you can run Tiny10 on a 32-bit system with just 1GB of RAM, and on a 64-bit system, you can use 2GB of RAM, which is simply amazing. We already know that Windows 10 grinds to a halt, even on systems with 4GB of RAM.
Now, you might be wondering, now that Windows 10 has been pared down to such a lightweight profile, is there something missing? Well, I tested extensively on Tiny10 and everything works without any errors. All core Windows system tools are available , including PowerShell, CMD, Disk Management, and more. I even ran a few apps including games like Geekbench, Crystaldisk, ShareX and CS: GO and everything ran without any issues. This also surprised me because we are testing the first beta of Tiny10 for x64 systems. But I can say for sure that you won't miss anything on the Tiny10 in terms of features.
As for apps, Tiny10 has removed all default apps like image viewer, Internet Explorer, media player, etc. Only Notepad and WordPad are available on this stripped-down version of Windows 10. Also, it's important to know that Tiny10 does not come with the Microsoft Store or Windows Security . You will need to sideload the desired application.
Also, Windows Subsystem for Linux is not supported, but you can enable Hyper-V. As for the Windows version, Tiny10 x64 Beta 1 runs Windows 10 Enterprise LTSC (Build 19044.1586, March 2022). This means that you can activate Tiny 10 with a Windows license, but it does not support Windows updates.
Tiny10 is a great solution for users who want to run lightweight Windows 10 on a low-end PC with very little disk space and RAM . Chrome OS Flex is another great solution, but it doesn't support full-fledged Windows applications. In this case, Tiny10 fills the gap and can breathe new life into an aging PC.
Difference Between Tiny10 and Windows 10
First of all, Tiny10 is fast and smooth compared to normal Windows 10. No bloatware to be found on Tiny10. The developers have removed all bloatware, unnecessary apps, services and system components. 
Tiny10 also takes up very little disk space compared to Windows 10 . On my 64-bit laptop, the Tiny10 installation took up only 10.5GB, while Windows 10 ballooned to 22.2GB after a fresh install.
Activation
Microsoft Learn – Key Management Services Client Activation and Product Keys
1. Enter License Key
Windows 11 : slmgr /ipk NRG8B-VKK3Q-CXVCJ-9G2XF-6Q84J
Windows 10 : slmgr /ipk M7XTQ-FN8P6-TTKYV-9D4CC-J462D
2. Enter KMS Server
slmgr /skms <KMS Server IP / Domain name>
Note: Please use your own KMS server. If you do not have, you can check this blog post regarding how to set up one for yourself. Or search Internet to find out an available one to use.
3. Make activation process auto renew
Download Links
For Tiny11
https://www.freedidi.com/wp-content/uploads/2023/02/tiny-11_202302_archive.torrent
For Tiny10
Win64: (2.4GB) https://archive.org/details/tiny-10-NTDEV
Backup Links: https://od.51sec.org/TGM_51Sec_EU/Sharing/ISO/Win11/Tiny%20Windows/
References
https://www.youtube.com/watch?v=vlTfIQDDm-k