A Fast and Legit Way to Download Baidu Cloud Disk Files
Introduction
Badu Cloud Disk is a popular free online file storage provider. It is also famous because of its throtting downloading speed policy. It takes hours or days to download a couple of GB files because of that policy. Because of that, some users developped the speical tools to accelerate the downloading. Unfortunately Baidu Cloud Disk company usually banned this kind of software and you might be jepardize your account because of using this kind of downloader.
In this post, I am gonna show you a legal way to have a fast download speed, also without jepardizing your Baidu Account.
Software Name: Geeplayer ( 万能联播(爱奇艺官方程序)
Web Site: https://static-s.iqiyi.com/wnbf/get.html
Super powerful video player : Geeplayer is a universal playback and fast transmission tool produced by iQiyi. Support multiple audio and video format playback, support cloud screen projection without geographical restrictions and local WiFi network restrictions, and support high-speed mutual transmission between mobile phones and computers between cross-platform devices.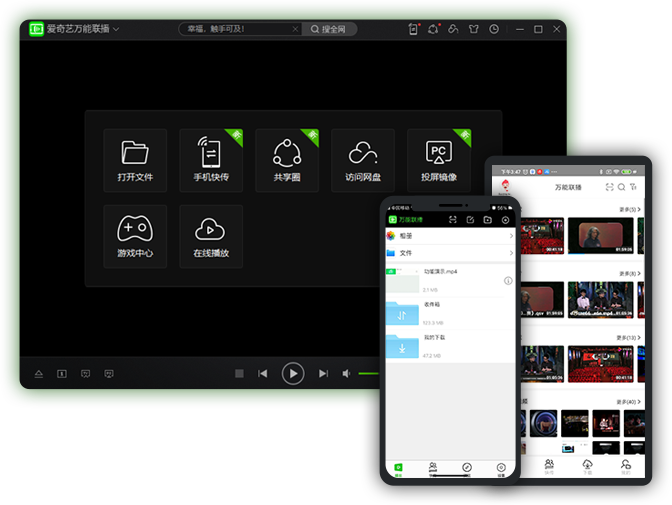 File Size: it is about 20MB. Small and easy to install with a guiding installation wizard.
Installation
Nothing special to say for installation. Just double click the download installation package, then follow the wizard , next , next until complete the installtion.
Install or Update:
If you have installed it before, you can update it through updating wizard.
Main Interface:
Download Baidu cloud disk files
Click GeePlayer menu:
You will be prompted a window to enter your credential to log into Baidu Cloud Disk. After login, you should be able to see all your files and folders in Baidu Cloud Disk and there is downlod button for each file.
Click Download File button, you will get a window to create your download task.
You can see a surprising download speed, 19.75MB/S, much faster than the speed you use original Baidu Cloud Disk app.
Download Link: