Agile Project Management Tool: Jira, Trello Studying Notes
Trello (Acquired by Atlassian) is a simple, customizable kanban type board for teams that want to work agile, but aren't observing the whole liturgy of agile development. Trello is largely designed for more general usages. Trello is a lightweight project management tool, designed as a Kanban board tool, you can visualize your task flow of anything from software development projects, to marketing campaigns, to holiday trips.
JIRA is an project management tool for by-the-book agile teams that are building, fixing, and releasing software. Jira is the best-selling software development tool from Atlassian (Acquired Trello). Used by a lot of tech teams it offers project planning and issue tracking features. Designed for agile software development teams, Jira offers various dashboards and overviews for scrum and agile techniques. For teams who practice agile methodologies, Jira Software provides scrum and kanban boards out-of-the box. 
---
Comparism
Jira
Trello
Built by
Atlassian
Atlassian
Pricing
Starting at $10/month
Freemium
Hosting
on-premises & cloud-hosted
cloud-hosted
Subscription
Cloud-based software: monthly or annual subscriptions or on-premises: perpetual licence
Monthly or annual subscriptions
Mobile apps
Android & iOS
Android & iOS
Typical customers
SMEs & Enterprises
Freelancers & SMEs
Key features
Project- & issue tracking
Kanban boards
Integration
about 100 integration partners
about 30 integration partners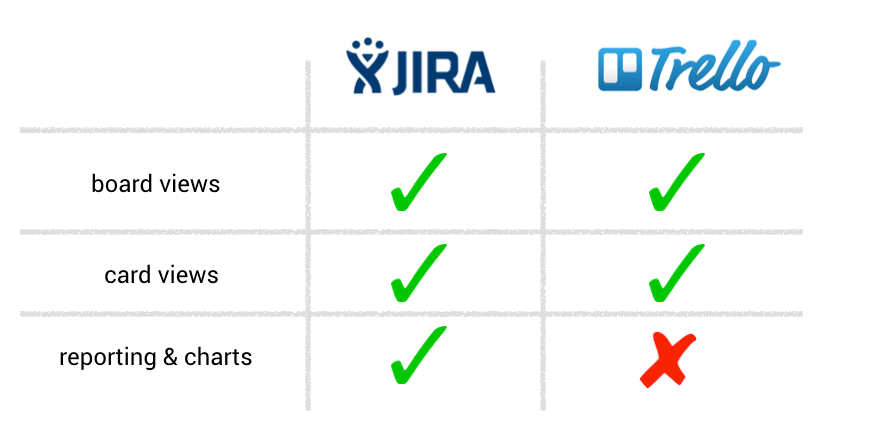 If Scrum is the framework that guides teams and their roles, events, artifacts, and rules, then the Jira Scrum Board is the visual display of its progress during the development cycle.
Scrum board is to manage stories, tasks, and workflows for a scrum team, which suits for teams that deliver work on a regular schedule
A kanban board is an agile project management tool designed to help visualize work, limit work-in-progress, and maximize efficiency (or flow). Kanban boards use cards, columns, and continuous improvement to help technology and service teams commit to the right amount of work, and get it done! Kanban board is to monitor work in a continuous flow for agile teams which suits for teams who control work volume from a backlog