Disk Benchmark Tool – CrystalDiskMark – [Win]
About CrystalDiskMark
CrystalDiskMark is a simple disk benchmark software.
Standard Edition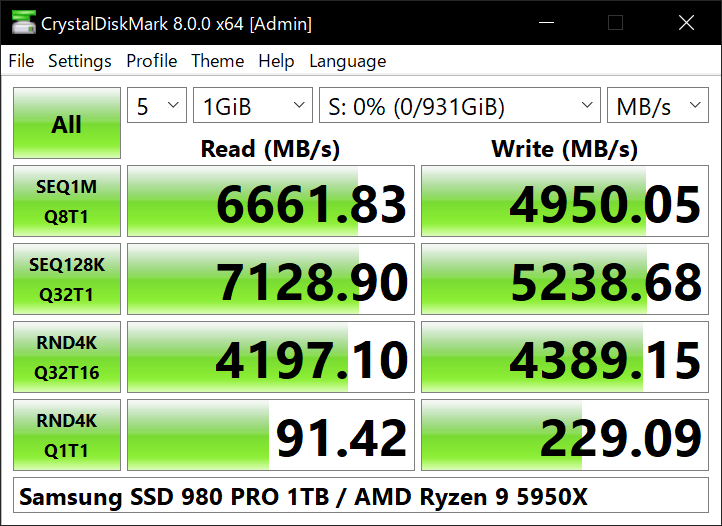 Key Features
Measure Sequential and Random Performance (Read/Write/Mix)
Various measure mode (Peak/Real World/Demo)
Many languages support
Themes
How to start Benchmark
1. Select Number of Test Runs, Test Size and Test Drive.
2. Click "All" button (or others button) to start Benchmark.
Number of Test
1~9. Default value is 5.
Test Size
16MiB, 32MiB, 64MiB, 128MiB, 256MiB, 512MiB, 1GiB, 2GiB, 4GiB, 8GiB, 16GiB, 32GiB and 64GiB.
Default value is 1GiB. It may be too large for low speed storage (USB memory etc…), so you should choose small size.
Test Drive
C:\, D:\ and etc… .
If you would like to test Network Drive, please execute CrystalDiskMark by standard user (UAC: No).
Test Unit
MB/S, GB/s, IOPS, μs(Average Latency)
Test Settings
You can configure Block Size, Queue and Thread settings by "Settings > Settings".
My Test Results
Internal NVME SSD – C Drive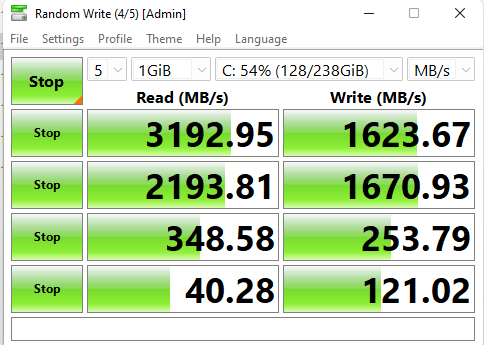 USB3 to NVME (M.2) SSD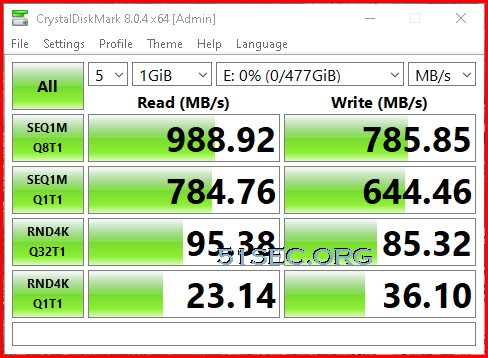 SSD Through Internal mini-SATA port – D Drive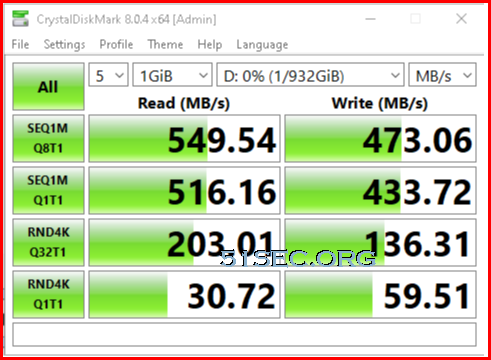 USB3.0 to NGFF (M.2)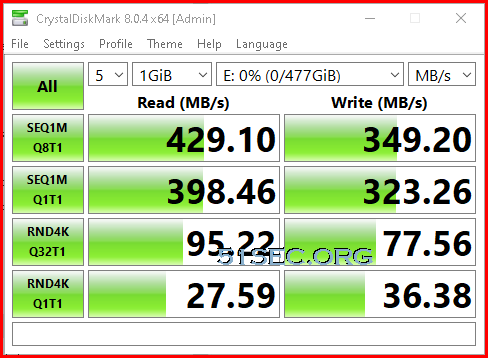 SSD through USB 3.0 enclosure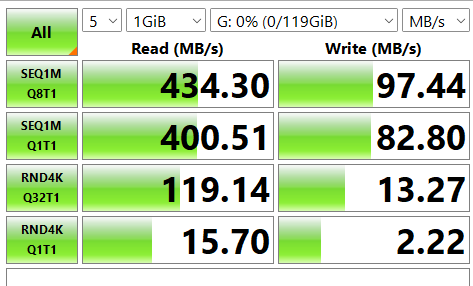 USB3.0 Flash Disk – connecting to USB3 port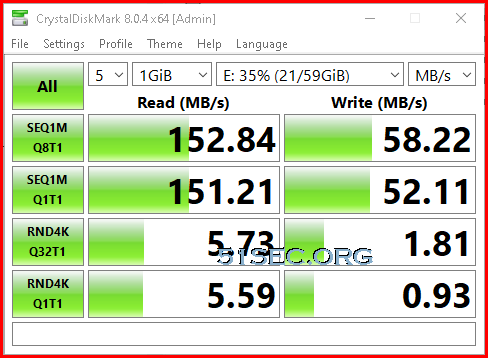 E Drive – HDD – 7200 RPM Seagate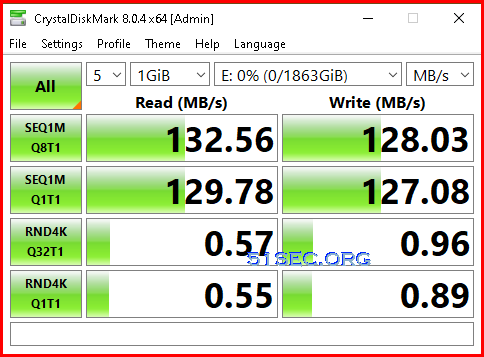 F Drive – HDD – USB 3.0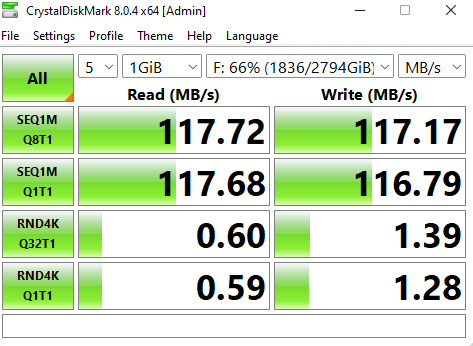 D Drive – Internal HDD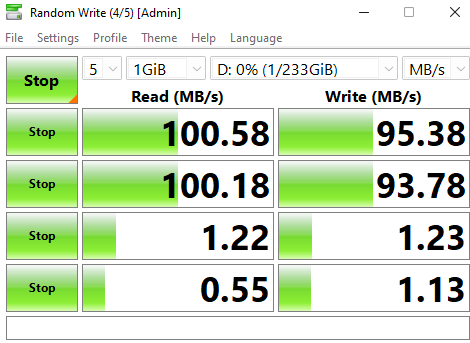 G Drive – HDD Through USB 3.0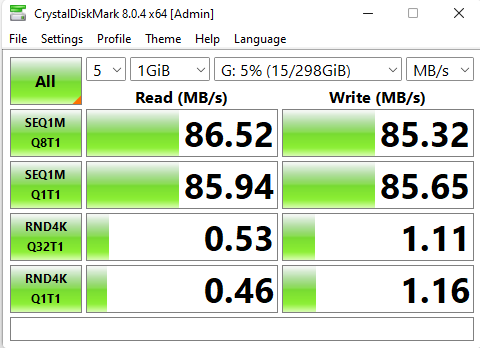 USB2.0 Hard Drive with an Enclousre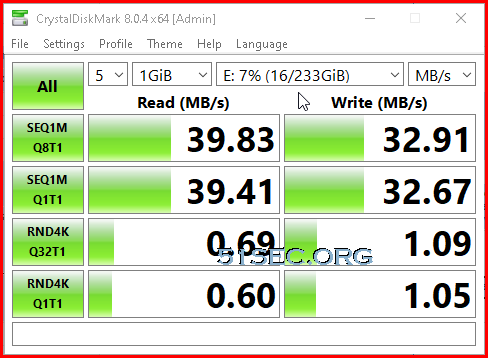 USB3.0 Flash Disk – connecting to USB2 port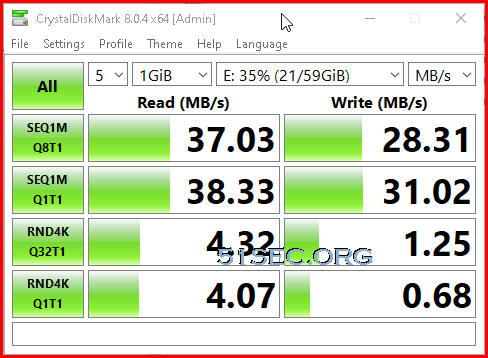 USB2.0 Flash Disk E Drive- A Cheap One: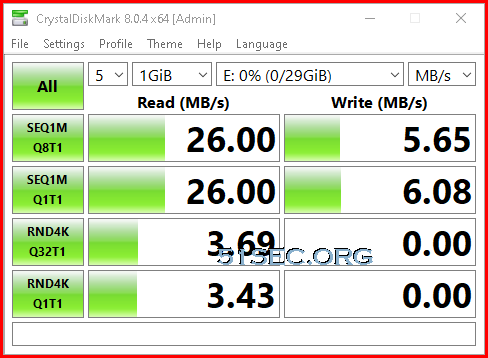 Download
[2022/07/17] CrystalDiskMark 8.0.4b
Backup download link: https://od.51sec.org/TGM_51Sec_EU/Sharing/Software/Hardware%20Tools/