Best Microsoft Office Deployment Tools – Office Tool Plus [Win]
Office Tool Plus is made based on  Office deployment tools  and  OSPP  , and can easily deploy Office. Its built-in Thunderbolt engine can help you download Office faster. Of course, you can also use various built-in gadgets or functions of Office Tool Plus to quickly, Easily activate and manage Office!
The following products are supported:
Microsoft 365
Office 2016 – 2021
Visio Online Plan 2 & 2016 – 2021
Project Online Desktop Client & 2016 – 2021
Personal homepage: https://officetool.plus/
Official website: https://otp.landian.vip/
Help document: https://otp.landian.vip/help/
GitHub:https://github.com/YerongAI/Office-Tool
Office Tool Plus is a completely legal application. All of its core components are from Microsoft's official website. Based on Office Deployment Tool and OSPP, we provide users with the functions of downloading, installing and activating Office. Whether the Office is genuine or not, Depends on how the user activates Office. Office Tool Plus itself only provides the download and installation of the original version of Office.
Office supports account, key, and KMS activation. The first two are basically genuine authorizations (the keys found online are separate). The genuine and non-genuine versions of KMS are somewhat misunderstood by people, so here is a supplementary explanation.
Generally, KMS servers authorized by Microsoft can only be deployed on Windows Server, and are usually only deployed on the intranet and not open to the outside world.
At present, the KMS server based on vlmcs is basically open on the Internet. It is non-genuine and has no activation restrictions. Anyone can access it.
Steps
1 Download latest version. 9.0.3.7, date: 08/10/2022
https://otp.landian.vip/en-us/download.html
File Size is about 70MB.
Check URL: https://otp.landian.vip/zh-cn/download.html
2 Unzip it to a folder
Double click "Office Tool Plus.exe" file from extracted folder "Office Tool".
3 Click Yes to accept Software License Terms and Microsoft Service Agreement to launch main interface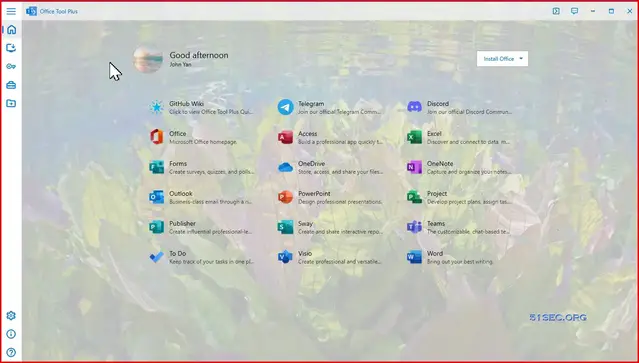 4 click Install Office button  and from drop down menu to select "Office LTSC Professional Plus 2021 – Volume License"

5 Choose Yes to install after download.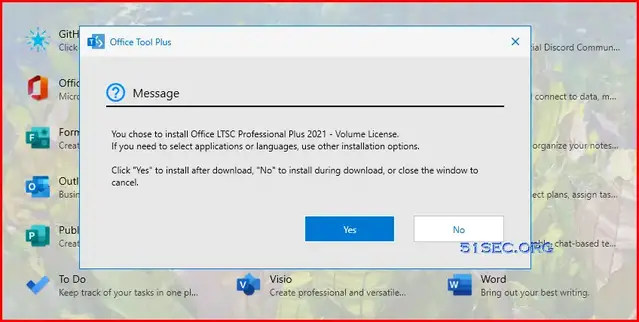 6 Deploy it with default settings.You might need to change channel based on the product you select to install.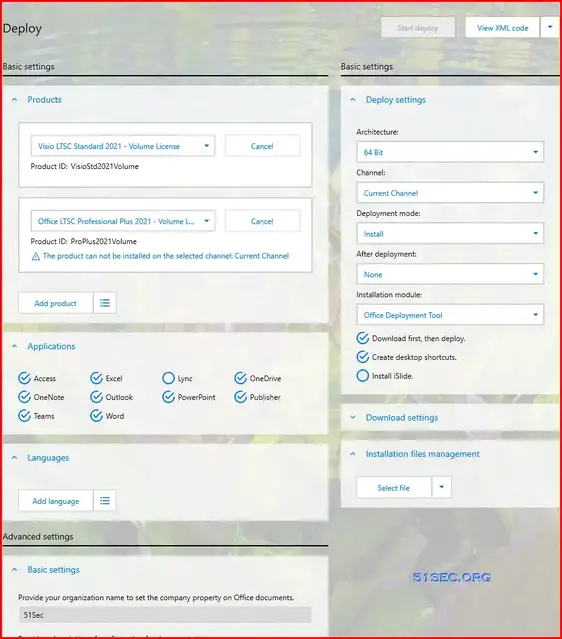 With this latest version, it will need MAK to activate products. 
Earlier version, you will find out KMS for activation as an option .  Here is a link for version 8.3.9.0 : https://github.com/YerongAI/Office-Tool/releases/tag/v8.3.9.0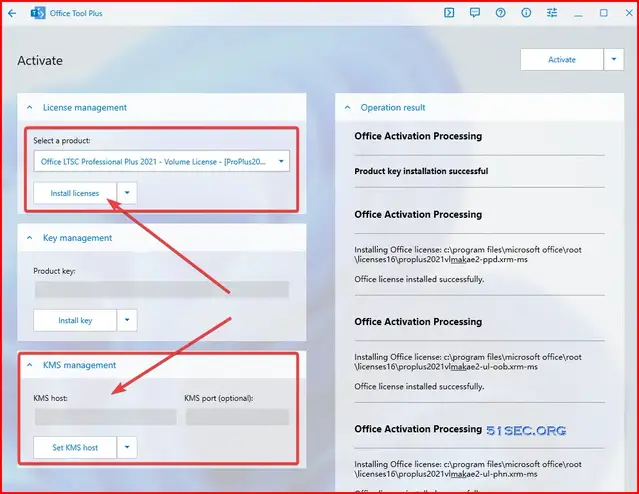 KMS List address: https://www.coolhub.top/tech-articles/kms_list.html
Download Links
latest version:
https://otp.landian.vip/zh-cn/download.html
https://github.com/YerongAI/Office-Tool/releases/
Office Tool Plus v8.3.9.0
References
https://blog.51sec.org/2022/08/install-microsoft-office-desktop.html
Video
https://blog.51sec.org/ezoic/video/embed.go?contentId=35eaf7ca73e47f4acfb4e3ea3396bae665a524ca05b385dbcda976e8f77c7f4e